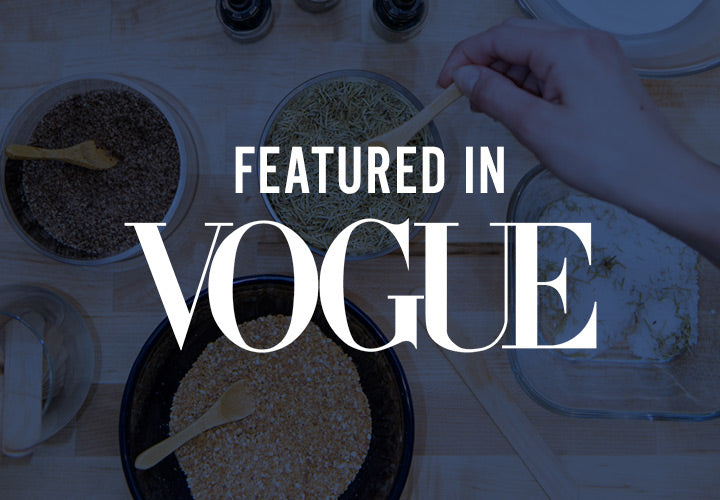 We are excited to have been featured in Vogue  as a "favorite destination" of Professor Meloney Moore, the former Estée Lauder executive leading Savannah College of Art and Design's (SCAD) new Business of Beauty and Fragrance major. It's amazing that we are inspiring students with our experiential format in our shops, focusing on education and clean beauty!
The full article can be seen on Vogue.com.
---
Why Savannah, Georgia Could Be the Country's New Clean Beauty Capital
There are no weeping willows in Savannah. The swooping, bending branches that tunnel the streets are mostly oak, draped in swaths of Spanish moss. Before I moved here—a few months after turning 30, searching for somewhere that wasn't Los Angeles—I always pictured them as weeping willows.

I pictured the cliché, prim and proper women of the South, too, complexions perfected with foundation thicker than a slice of Paula Deen's famous Brown Sugar Bacon. Would I—a bare-faced beauty journalist from California by way of New Jersey, who's all but given up cosmetics in an effort to lower my body's chemical burden—fit in? I pictured the over-the-top politeness (my Southern mother-in-law once sent me a thank you note for a thank you note) and my propensity for four-letter words. I pictured living in a state that came dangerously close to outlawing abortion last year and feeling powerless.
Savannah was my husband's idea. He went to college in the city twenty-some years ago and loved it; I was skeptical but easily persuaded. I mean, I was ready to leave L.A. I wanted a place to slow down and write a book and afford a front yard. So I packed my things and said my goodbyes—to friends, sure, but also to the Moon Juice on Melrose Place, the Detox Market on 3rd, the Korean spa on Vermont. I doubted Savannah, Georgia could satisfy my craving for clean beauty and cutting-edge wellness in quite the same way.
I was wrong about it all, from the willows to the wellness scene.
I knew it the moment Rose-Marie Swift—65-year-old founder of RMS Beauty, pioneer of the non-toxic movement, professional astrologer—opened the door of her remodeled brownstone in the heart of Savannah's Historic District. "Honey, L.A.'s not my thing, and my company's never run out of New York, ever," Swift told me when we talked pre-pandemic, as she ushered me inside for lunch. "I love it here."
Swift is from Canada, although she's traveled all over—Paris, London, Los Angeles, Miami—working as a makeup artist. "I lived in Berlin and Hamburg, I was there when the wall came down," she recalled, pulling extra-large soup bowls from her kitchen cabinet. "Then, you know, I got sick."
The story is the stuff of industry legend, but she rehashed the highlights as she heated the broth. After falling ill, Swift had a hair, blood, and urine analysis done. "When I got the tests back they said, 'Do you work in the cosmetic industry?' I said, 'Holy shit, how do you know that?'" The chemicals in her body were more commonly found in beauty products. Swift started researching the toxic effects of conventional cosmetics and launched beautytruth.com in 2004—before the Environmental Working Group's Skin Deep database, before Goop, before anyone, really, was talking about it.
The founder didn't settle into Savannah until after she launched RMS Beauty, one of the first organic makeup brands (and maybe the first to actually work). It's headquartered just across the Savannah River and over the Talmadge Bridge, in Charleston, South Carolina, and not necessarily by choice. "When I started my company, I couldn't find a lab—no one wanted to do organic," she said. "It was too time consuming, it was a pain in the ass, nobody knew how." Swift had her own starting formulas, chemists wanted to change them, she wouldn't allow it. The only lab that would take on RMS Beauty, Swift's way, was in Charleston.
Today, Swift goes back and forth between New York and Savannah because "it's easier to get down here than the Hamptons on a summer day, and I wouldn't want to be sitting in the Hamptons seeing all the same people." Besides, "all my friends from New York say, 'It's a little bit of Europe down here.'" (That comes courtesy of the 18th century city plan from Englishman and Georgia founder James Oglethorpe. The original design is still intact, for the most part.) Savannah's only downside? According to Swift, "They don't get the concept of vegetables. At all."
It's true: In the time I've lived here, I've objectively eaten too many fried oyster po'boys from The Grey Market, and sadly, Swift's home-cooked meal of mixed salad and quinoa chicken soup—the former drizzled with apple cider vinegar and ice-pressed olive oil, all organic—isn't available on UberEats. That's not to say Savannah hasn't staked a claim in the wellness space, though. In fact, it's done so in a way no other industry hotspot has, thanks to the state's native yaupon plant.
Stepping into Yaupon Teahouse & Apothecary, a modern café-meets-beauty boutique on Abercorn Street, feels a little like stepping back into Silver Lake. The difference? The edgy L.A. neighborhood probably hasn't heard of yaupon yet. "This plant is our hero, our heroine," Lou Thomann, the company's co-founder, tells Vogue. Everything in the shop is made with yaupon. There's yaupon-infused face oil on the shelves, yaupon-infused kombucha on tap, and yaupon herbal smokes for sale. Thomann has been working with the herb for nearly a decade.
What is yaupon, exactly? "It was the most sacred plant in North America, and no one knows anything about it," Thomann starts. What is known of its history is fascinating: The plant is local to the southeast, and the area's Indigenous tribes discovered countless uses for it—it's an antioxidant and an anti-inflammatory, it has cardiovascular-protective and neuroprotective properties, it helps heal wounds and increase stamina. But mostly, yaupon has a lot of caffeine, which made it a valuable item to trade in the 18th century.
When Oglethorpe settled Savannah, he did so with permission and guidance from the chief of the Yamacraw tribe, Tomochichi (apparently, the two often drank yaupon tea together). This opened up the opportunity for Native people to trade with England. "One theory is that because it was gaining so much popularity, the East India Tea Company felt threatened," Thomann explains of yaupon's slip into obscurity. "It could be the first case of corporate espionage." British botanist William Aiton was asked to create a Linnaean classification for yaupon. He chose Ilex vomitoria—roughly translated, "makes you vomit." It doesn't, but the name served a purpose: Yaupon fell out of favor.
At the same time, "the Native American population was pushed westward, so they were taken out of the natural range where yaupon grows," Thomann explains. "The continuity of the knowledge of the plant, we broke it." Today, Thomann and his wife and co-founder, Lori Judge (who has Osage ancestry and is "a natural healer," says Thomann), aim to restore yaupon's reputation and bring its medicine to the masses. The couple owns a yaupon farm 25 minutes outside of Savannah where they grow, wild-harvest, and process the plant themselves.
Of course, yaupon makes an excellent coffee alternative, but its skin care benefits are what I'm really after. Aside from the de-puffing power of caffeine, the plant contains saponins, known for their calming and protecting properties. Topical yaupon can also help combat acne, although no one knows why, yet. Thomann has accepted a USDA grant to study yaupon's therapeutic value, and says "the chemistry is really validating all of the ancient, traditional, medicinal uses."
While I may not know how it works, I do know this: It works. At least, for me. I've been slathering on the Yaupon Daily Facial Oil for weeks—an herbal infusion in jojoba and hempseed oils, among others—and may never love another oil again.
Visitors can stock up on yaupon skin care at the Teahouse, or head to the Polished Beauty Lounge on Whitaker to experience its signature yaupon facial (ask for Kathryn). While there, why not pop into Bluemercury on Broughton Street? The downtown boutique offers clean, natural products from RMS Beauty and One Love Organics, another southern institution.
One Love Organics holds a special place in my heart and also my bathroom shelf, and has for years. When the brand invited me to visit its spa on St. Simons Island, about an hour down the marsh-lined coast from Savannah, my initial response was yes, of course. And then: One Love Organics—the decade-old originator of organic, ECOCERT, effective skin care—is based here?
"I'm from here, and when I say here, I mean Jesup, which is 60 miles inland," Suzanne LeRoux, the company's founder, tells me in a lilting accent, blonde bob bouncing. She looks every inch the sweet Southern lady, and she is—but LeRoux is also strong-willed and whip-smart, with a fine-tuned bullshit detector. She studied law in Texas; she had no intention of launching a beauty brand, especially not an environmentally-conscious one.
"I didn't get into this because I was some 'green' person, that never crossed my mind," LeRoux says. "It was the health of my skin." The stress of law school was splashed across her face, and in the process of self-soothing with DIYs, she found her passion: organic ingredients, filler-free formulations, and sustainable packaging. After the birth of her sons, LeRoux's husband encouraged her to start a skin care company in lieu of practicing law. LeRoux never really liked law, anyway.
"When we first started this 10 years ago, people thought we lost our mahhhnds," LeRoux laughs. "They were like, 'Why would you do green beauty?' That wasn't even a thing back then." Doubt came from all directions, but mostly, as with Swift, from manufacturers. "I went to a really big lab out here, and they wanted to edit all my formulas for cost." She met with others; the feedback was the same. Unwilling to compromise, she decided to manufacture the line herself. (See? Strong-willed, no bullshit.)
Today, LeRoux owns the only ECOCERT-licensed facility in Georgia, a small factory on the Golden Isles where the One Love team formulates, produces, and packs all of the company's products. (The license ensures the ingredients are certified natural and organic, and the inventory is created, from start to finish, with the environment in mind.) For a time, local customers "used to pop in and buy product," LeRoux says, as if stopping by a manufacturing facility were the most natural thing in the world. But One Love Organics has grown significantly since 2010 and moved its factory to accommodate, which inspired the opening of the One Love Organics Spa on St. Simons last year.
The Spa may be my favorite place in the state. It's part boutique, part office, part facial oasis with a dedicated aesthetician (ask for the Detox + Glow treatment). There's a very Instagrammable neon sign at the entrance reminding you to "Love Your Skin," and floor-to-ceiling windows overlooking the water. "If it's a beautiful day, I'll go to the beach and pull up my laptop and research sodium hyaluronate and hyaluronic acid," says LeRoux.
Potential PR firms have broached the subject of relocation in the past—"They thought it might hurt [to be here], like, 'What does somebody in Georgia know?'"—but the founder has never wanted to move to a major market. For LeRoux, it's not about chasing the "clean beauty" trend, it's about perfecting the craft. "So many brands will fall by the wayside, and I'll still be making my products," she says.
The same could be said for RMS Beauty and Yaupon Teahouse, really. In the past 10 years, the three have cemented their status as industry innovators, unintentionally turning the city into a clean beauty capital. The Savannah College of Art and Design—SCAD, for short—wants to keep it that way.
The university introduced the Business of Beauty and Fragrance B.F.A. program last year, and tapped former Estée Lauder executive director Meloney Moore to teach. "It is one of the fastest growing programs at the college," Moore tells me over coffee at Art's Café on Bull Street, a SCAD staple. "I started and we had seven students in the major—we have 80, as of today." As the beauty business continues to boom, the program will likely grow in popularity. (Moore says she has high school students asking for admissions advice on Instagram, some even sending her PowerPoint presentations for consideration.)
While the program doesn't specifically focus on "clean" beauty, sustainability is integrated into each class—on that front, Moore has even consulted with Rose-Marie Swift. "The students are very focused on it, very environmentally-conscious," the professor says, detailing some promising projects: "They'll say, 'We're going to work with TerraCycle to do this program,' or, 'We're going to retain the consumer by asking them to mail back their bottles to refill and give them a discount.'"
That last one, no doubt, was inspired by a field trip to Salacia Salts, a shop founded by a SCAD graduate and one of Moore's favorite spots in Savannah. Its bath and body care line features local ingredients—Atlantic sea salt, crushed pecan scrubs, exfoliating grits—packaged in reusable glass containers or recyclable cardboard. The store even has a bulk bar where customers can stock up on bath salts and facial cleansers, as well as a community space for classes.
To Jennifer Tinsley, founder of natural beauty brand FIELD and a 1996 graduate of SCAD, it's these in-person experiences that will drive clean beauty forward in smaller Southern communities. "There is always online shopping, but the experience of trying out products and the educational component of brick and mortar shopping just can't be replaced," she says. "I am constantly amazed by customers coming into the store who are really concerned with personal care product ingredients, and are making a conscious decision to make the switch." FIELD's offerings are now available online at Urban Outfitters and American Eagle, but it's the shop in Augusta, Georgia—complete with an event space for how-to workshops and a future refill station—that fuels growth. "My customers don't just want beauty products; they are shopping at FIELD because it aligns with their lifestyle," Tinsley says.
That lifestyle, increasingly, is one of simplicity—one that looks to do more with less. RMS Beauty's entire range relies on a single star ingredient: cold centrifuge coconut oil. After 10 years, One Love Organics still offers only 18 SKUs. FIELD has three. "I think there's a realization that we've got to get back to the roots, the origin," as Thomann says. "I like to tell people, it's an old Southern expression, 'Yaupon is real as dirt.' You can't get any more real."
Even in my months as a Savannian, I feel it. I've yet to unpack my (bursting) box of supplements; I've been sipping on yaupon tea with honey, and that feels like enough. My face is glowing—from the increased humidity, I'm sure, but also from paring back on beauty products. Yes, I'm still eating too many fried oysters, but there's always an organic, simple salad waiting for me at Swift's. (She promised.) It's nothing like I pictured, and it's hard to explain… but there's something about Savannah that calls for fewer, better, cleaner things. No pretense, no extras, no excess.
"I see it in the students here," agrees Moore. "That authenticity and simplicity and respect for what's good and right is influencing the trends in our industry. It brings me back to the reason I fell in love with beauty to begin with."
Continue reading